Main Page
Click The Vote Button TO Vote For This Site To Win Awards!
Note: If you need to report an animal abuse case, or have something of consequence to add to our works, let us know by emailing us in our official AAIWS inbox.
Would you like to email US? Click our link:
If you are new to the site and have trouble getting around helela has posted this blog to help us with it. Just click on How to get around the Mixxt sites and read her helpful blog. Remember to thank her for her help too.
This is our plea, our motto, and our cause: "Join Animal Abuser Identification Warning System (A A I W S) today. Help us stamp out the murder and torture of the voiceless innocent.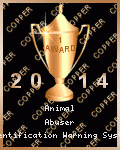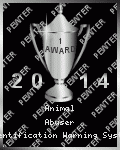 09/11/2014 22:09

They never stop think about the poor male calves that are left to die and cry for their Mother's love and milk and the Mother cow cries for them all night long. I gave up animals for eating , wearing or entertainment 26 years ago and I never look back. I buy only cruelty free cosmetics: moisturizers and lotions and etc. We are kindling spirits Chazz, thank you my friend for caring so much.Blessing

09/11/2014 22:06

Chazz I agree with you, but I have learned to accept the fact that people are selfish creatures that think only of their own pleasure. They never stop to think that an animals-which people are also, we are all animals with souls- is suffering because they want to wear leather shoes or purse or coat. They never think of the suffering these poor cows go through to give them that glass of milk.

03/09/2014 00:41

I just have to voice this. When I see a guy wearing leather it doesn't make me think he is tough, hot, or sexy. I see a coward of a man wearing the skin of a peaceful vegivore who never hurt any other living animal. I see a coward who thinks it is cool to wear the skin of one of the most gentle yet tortured soullessly for no reason what so ever, creatures on the face of the earth, and it pisses me off. I don't see hot, I see a man I simply want to send straight to hell. I find it offensive beyond all words.

17/04/2014 15:31

Animal Abuser Identification Warning System now has 403 votes towards this years awards
and 403 as the total number of votes for all time

11/04/2014 14:44

Voted

20/02/2014 20:28

Hi, I have a couple of petitions from PETA but do not know how to put them on this site, can anyone help me?. Thanks Jeaneen

06/02/2014 06:48

Just want to say Hi to everyone. Elizabeth

30/12/2013 21:04

Hi, everyone! Today I have my Yardley for 9 years, from feral cat to loved and cherished house cat. Just felt like sharing this joyful event. Happy New Year! May your New Year be blessed with love, peace and joy. Blessings and Love. Jeaneen

25/12/2013 14:16

To all my friends and fellow members of this wonderful site-Merry Christmas and a very Happy New Year! Blessings, Jeaneen

25/11/2013 06:53

Just wanted to stop by and say hi! Sorry I've been inactivate but I've been dealing with some serious health issue. But I've got my puppy to keep me going! This is an awesome site and animal cruelty really needs more attention!!! It sickens me everytime I see another person getting away with it. Or when I walk by a pet store and see all those pups, knowing what conditions their pets are living.

21/11/2013 14:02

This is a very nice site

18/11/2013 19:29

Chazz, I would love to invite people, but I can not seem to understand where you put there emails? Sorry for needing my help. Blessings. Jeaneen

17/11/2013 20:46

I can not believe that this amazing site only has 48 members. am I the only one who has invited at least 50 friends to join here? Chazz have you been asking the members to invite their friends to join us here too? I am just asking because I would have thought a site for animal protection would have had a huge number of members on it. Right?

20/10/2013 05:37

Feel free to invite your friends to join us here. The more members we get, the greater strength we may gain to help the animals who are abused, neglected, or even down right murdered.

17/10/2013 21:23

I am back home and resting